My model of GBW caboose #617, modeled as it would appear not long after it was delivered in 1966 -- with windows and roofwalk intact.
---
I wanted to model a bay window caboose as it looked in the mid-1960's. I didn't have a particular caboose in mind, but the yellow bay window cabooses were such a standard on the end of the trains I saw on the Kewaunee Division as a kid that it would be a crime for me to build a model railroad based on the GB&W and not have something similar on my layout.
My model caboose started with an International Bay Window Caboose model from Walthers (now out of production). A roofwalk and end ladders from an Athearn caboose were added, since the Walthers model is for a more modern prototype. The tool box under the caboose was left off. The roof smokestack was fabricated from a few pieces of styrene rod to match GB&W practice. The model is not an exact replica of the Green Bay Route prototype, but it certainly recaptures my memories of the railroad.
The model was airbrushed with Badger Modelflex paint -- reefer yellow for the body and engine black for the underframe. The steps were hand-painted weathered black. The lettering came from a set of Herald King C-10 decals (out of production).
Although both the car and decals are out of production, I was able to get the required parts from the following sources:
The International Bay Window Caboose came from the Train Station in Columbus, OH (614/262-9056). Thanks goes out to Steve Sillato for getting me in touch with them.

The Herald King decal set was purchased on the web auction site eBay.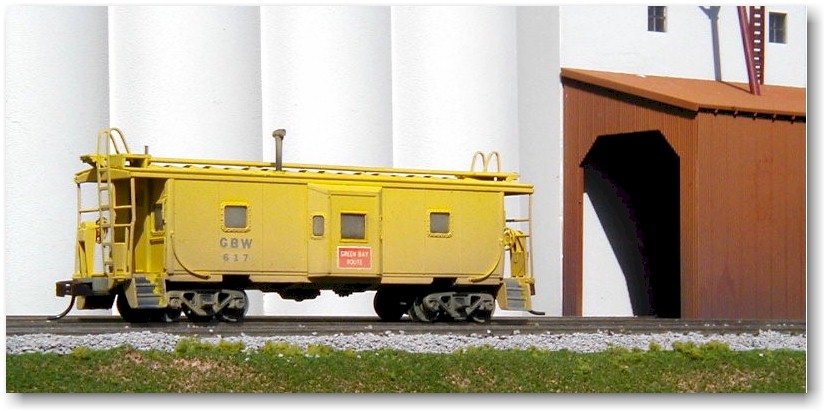 Mark Mathu photo.