Who is he and what does this have to do with the Green Bay Route?
---
Russ Widoe, a key figure in bringing public television to Northeastern Wisconsin, passed away at age 84 on October 23, 1999 in California. He is survived by his wife and two daughters.
Colonel Caboose: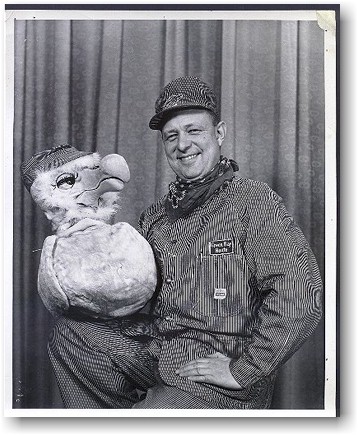 Russ Widoe wears his Green Bay Route overalls as "Colonel Caboose" -- with his DoDo bird puppet Griselda.
Publicity photo, undated.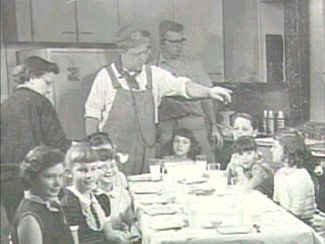 Widoe played the children's character Colonel Caboose on Green Bay's WBAY-TV for 10 years, beginning in 1960. He was described by TV Guide as a "ventriloquist, teacher, musical expert, and experienced showman". As Colonel Caboose he dressed in bib overalls, a train engineer's cap and a bandana. And of course his overalls proudly displayed "GREEN BAY ROUTE" on them.
Colonel Caboose captured 75 percent of the Green Bay TV market in its 7:00 to 8:00 a.m and 4:00 to 5:30 p.m. weekdays time slots.
Widoe grew up in Omaha, Neb., and had a master's degree in music from Northwestern University. Before coming to Green Bay he was a late-night disc jockey for six years on Chicago's WIND radio station. He also hosted "Captain WITI" on WITI-TV in Milwaukee in late 1959 and early 1960. The show had a similar format to Colonel Caboose but with a nautical theme instead of a railroad theme.
His tenure as Colonel Caboose coincided with my formative years, as well as those of many other children in the Green Bay area. Around Christmas time he would carefully unpack, on the air, a Lionel layout and operate it through the holiday season.
In 1963 Colonel Caboose hosted a "name the train engine" contest on his show: GB&W #311 was on display at a Chicago railroad exhibit and the winner and all runners-up rode with the Colonel on a C&NW bi-level car from Green Bay to the show. The winner of the contest picked the name 'The Northern Light' which was displayed on the nose of the GB&W locomotive at the show.
After his time as Colonel Caboose, Widoe was instrumental in the creation of WPNE-TV Channel 38 in Green Bay, now part of Wisconsin Public Television. After retiring from television in 1980 Widoe founded Northeastern Wisconsin In-School Telecommunications, or NEWIST.
He received an award from the Wisconsin Educational Media Association in 1991 recognizing his lifetime accomplishments.
---
Thanks goes out to Jim Elbe and for this article, and bringing back fond memories of watching Colonel Caboose as a young child... just thinking about his show makes me yearn for Archway cookies and Jolly Good soda of my youth, two of the items he promoted on his show to us gullible children.
Jim also reports that the Green Bay and Western had a caboose lettered as the "Colonel Caboose" caboose! Not long after it was delivered, steel caboose #614 had a special paint scheme with "THE COLONEL CABOOSE" in large black and red lettering on the side. The paint scheme only lasted a brief time.
Related links