Deb Fifield is recreating the railroad scene of Winona on her 16' x 30' HO Hiawatha Lines in Alliance, Nebraska.
---
Layout at a glance

Name: Hiawatha Lines (Since 1959)
Scale: HO (1:87) Size: 16 x 30 feet
Theme: Granger railroading
Locale: southeast Minnesota
Era: mid-1960s
Layout height: 44" to 56"
Benchwork: Open grid
Roadbed: Homasote on 5/8" plywood
Track: Handlaid code 100 on Kappler wood ties
Turnout minimum: no. 4, most are #6
Minimum curve radius: 30"
Maximum grade: 2.0 percent
Scenery construction: Sculptamold over plaster cloth
Backdrop: .060 styrene painted blue. Clouds a spray painted on and hills are painted on with acrylic paints
Control: Rail Command by CVP Products of Richardson Texas
Waybill: Software by Albion Soft Ware (Ship It Program)

Roster:
GBW #302
RS-2
Kato; red & gray paint scheme.
KGBW #309
RS-11
Red & gray paint scheme. (Under construction.)
GBW #311
C-424
Red & gray paint scheme.
GBW #312
C-424
Solid red paint scheme.
C&NW
RSD-4
Atlas.
MILW
RSC-2
MILW
4-8-4
Overland Models, class S-2.
Green Bay & Western locomotives play a major role hauling the freight on Deb's Hiawatha Lines -- along with some help from some Chicago & North Western and Milwaukee Road power. The layout is designed for way freight operation which is Deb's favorite part of operations. She uses the program RailOP for Windows for directing car movements on the layout. Digital locomotive control is from EasyDCC by CVP Products.
Deb grew up in Winona, the west end of the Green Bay Route. Deb has a railroading background; she was an electrician for the Burlington Northern Santa Fe for twenty years. She and her son started this project in May 2000. It is housed in a building built specifically for the layout. The layout captures the area west of Winona. Her son is building a four-foot trestle based on the infamous one over Bear Creek Valley on the Winona & Southwestern -- it will have over 4000 nut-bolt-washer castings when completed!.
The railroad is designed to be run anywhere from 1 person to a crew of 6. It is operated in a point to loop fashion with a provision for continuous running also. It starts in the west at Rochester, Minnesota and then goes to St. Charles. The next stop is Utica. Then it crosses over the Bear Creek Trestle and drops down hill into Minnesota City and on to South Winona, Minnesota. The C&NW runs turns from Rochester to Winona. The GB&W and the Hiawatha Lines runs from Rochester to La Crosse, Wisconsin. The Milwaukee Road runs from Winona to La Crosse. From Winona the next stop is Homer and then into River Junction and an interchange with the CB&Q. Then it is on to La Crosse. It is fictional in that the Winona bridge was never built and the Hiawatha Lines was the original railroad in the area. The other railroads use trackage rights on the HL.
The bench work is all up and the towns from Utica to Homer are running. She plans to have all the track in by this fall.
Visitors are most welcome, especially ones that like to operate. If you would like to visit email Deb Fifield at debraann@premaonline.com for arrangements.
---
Go here for more photos of Deb's layout:
Below: RS-2 #302 leads train #3 westbound in Utica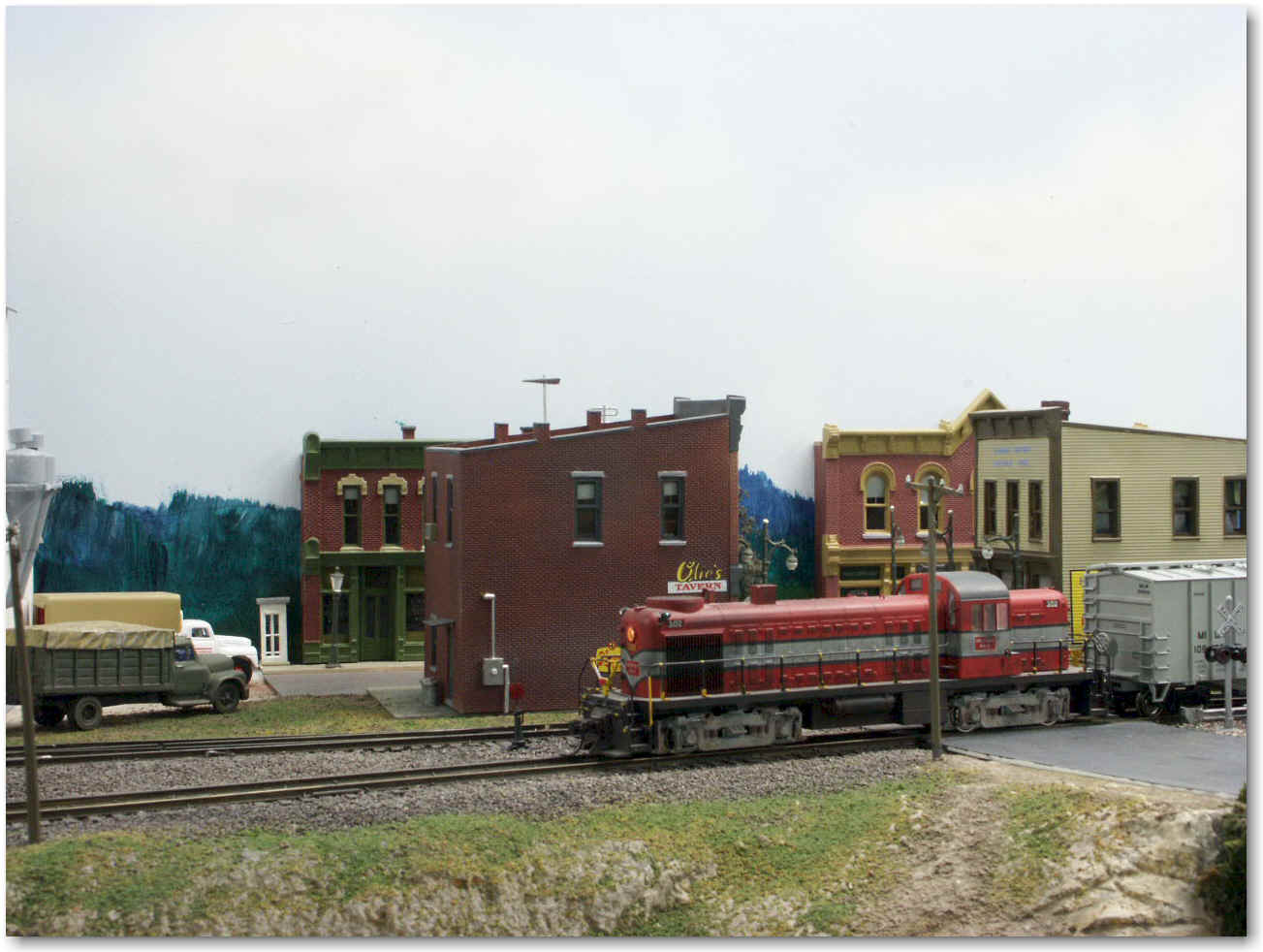 Deb Fifield photo.
This photo may not be reproduced without permission.