The coal docks on the west bank of the Fox River in Green Bay started as an enterprise of the Green Bay, Winona & St. Paul RR in the 1880s -- hence the name St. Paul Coal Docks.
---
Although this postcard is marked September 24, 1907, the caption reveals an earlier origin for the photo.
The docks were used as a transfer point of the Lackawanna Transportation Company boat line to unload anthracite coal from their steam ships to the Green Bay, Winona & St. Paul RR. In those days of uncontrolled monopolies, it should come as no surprise that both the steam ships and the GBW&StP were owned by the same group which also owned the coal fields supplying the raw material and Delaware, Lackawanna & Western RR which carried it from the mines to the Lackawanna - Green Bay boats!
By the start of the twentieth century the Green Bay Route sold the property to W.W. Cargill, but the railroad still kept a steady business hauling coal from the docks to points all along the railroad for many years afterwards. As a matter of fact, coal was the largest commodity in terms of tonnage hauled on the Green Bay Route every year from 1908 to 1948.
This area is still used as a coal dock today by the C. Reiss Coal Company.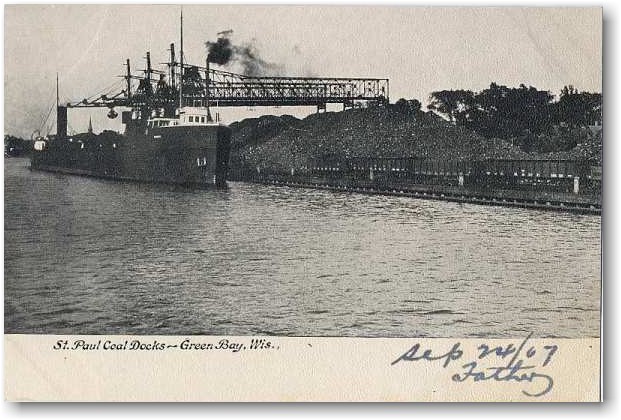 Postcard, 1907.