Postcard image of the station at Seymour.
---
This 1915 postcard view shows the Green Bay Route depot at Seymour. Located at milepost 17 west, Seymour was part of the original 40-mile portion of the Green Bay & Lake Pepin Railway which began regular scheduled service on January 23, 1872. The station shown below was built in 1883, and this photo was taken near the end of it's service around 1915. It shows passengers waiting on the platform and an approaching train, most likely westbound train #1 from Green Bay.
This depot was replaced by a new building which is still standing today. That building is the home of the HO scale Seymour Model Railroad Club. Open house is held the first and third Sunday of each month from 1:00 to 3:00 p.m. For more info contact the club secretary/treasurer David Fairbanks, 323 Washington Street, Seymour WI 54165-1331.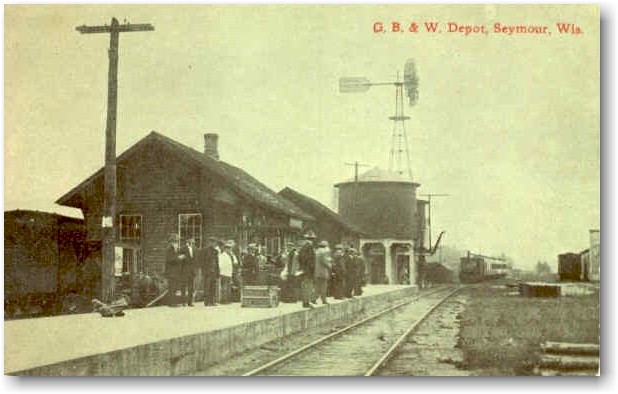 Postcard, 1915.