This undated postcard shows a nice aerial view of Sturgeon Bay, looking to the east.
---
The Ahnapee & Western's bridge over the Sturgeon Bay ship canal is on the left side of the photo. The other bridge in the photo was a highway bridge built in the 1930s. Access to the bridge was over the curved causeway extending into the water. This was originally a series of trestle bents but was filled in with stone riprap in the late 1940s after the Ahnapee & Western became an independent railroad.
The troubled bridge was involved in several ship accidents over the years. In 1968 an inspection revealed that the bridge had structural defects and it was closed to traffic. It remained in place, unused for several years before it was removed. The causeway still juts into the water; now it is a city park.
Although this postcard is undated, it appears that the railroad has been abandoned by the time this photo was shot.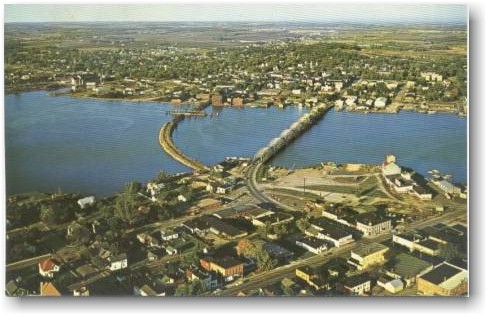 Postcard, undated.