The Winona Bridge Railway's Mississippi River bridge swing span from the center looking toward Winona.
---
The Green Bay & Western owned one-third of the Winona Bridge Railway, which was formed in 1890 to build and operate a bridge over the Mississippi River from the junction point of East Winona, Wisconsin to the city of Winona, Minnesota. The bridge consisted of a 420 foot swing span on the Minnesota side and three trusses spanning 360, 240, and 240 feet towards Wisconsin. The approach trestles were 270 feet long on the Minnesota side and 1,100 feet long through the marsh land on the Wisconsin side.
The bridge opened to traffic on July 4, 1891 and served the GBW and Burlington Route for the next 104 years until it was closed in 1985 due to heavy repairs needed on the trestle approach and an inability for the main span to handle freight cars in excess of 263,000 pounds. The bridge partially burned on December 17, 1989 and was dismantled in the fall of 1990.
Related images: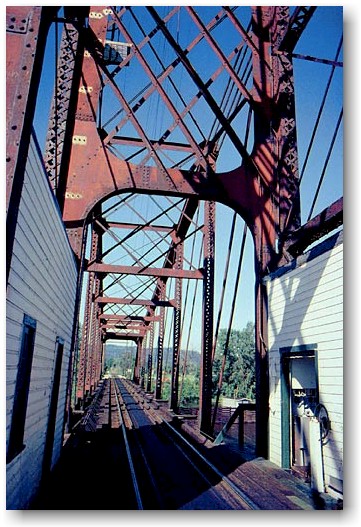 Charles Tomashek photo, June 1981.
This photo may not be reproduced without permission.