High winds took down C. Reiss Coal Company's #1 crane in Green Bay in 1944.
---
Whoa! Here is an example of how NOT to operate a coal yard. The train cars in the foreground of the photo are in the Green Bay and Western's Green Bay Yard, milepost zero on the railroad. This is where the original Green Bay & Lake Pepin RR began laying rail in 1871. The facility on Green Bay's riverfront was originally operated by the railroad, then sold to W.W. Cargill, and then to C. Reiss in 1904. It was still in operation when the GB&W ended operations in 1993.
More information: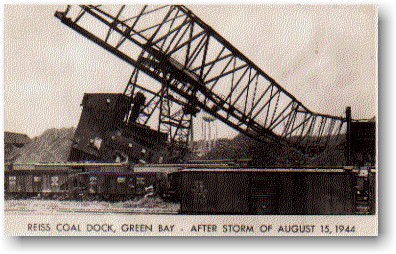 Postcard from the collection of Brian Cassidy.