The CITY OF MIDLAND 41 at slip no. 1 in Kewaunee.
---
These two photos show the CITY OF MIDLAND 41 is berthed at Kewaunee. The exact date of the photos are unknown, but were taken sometime between 1983 and 1988. The railroad cars were loaded into the ferries from the stern (rear of the boat). It could hold 34 average-length freight cars.
The auto loading ramp and passenger gangplank was added in 1983 when the Michigan-Wisconsin Transportation Company took over the ferry service from the Chessie System Railroad.
The CITY OF MIDLAND 41 was built in Manitowoc, Wisconsin for the Pere Marquette Railroad at a cost of $2 million in 1940-41. At the time of construction it was the largest carferry in the world, and many considered her the finest Lake Michigan care ferry ever built. Unfortunately, the ship needed major repairs in 1988 and was retired. After ten years in storage, she was converted into a barge (renamed PERE MARQUETTE 41) and is now used to haul heavy cargo, such as stone, coal, timber and large machinery.
To learn more about the CITY OF MIDLAND 41, check out City of Midland Pictorial History.
---
The CITY OF MIDLAND 41 in Kewaunee slip no. 1.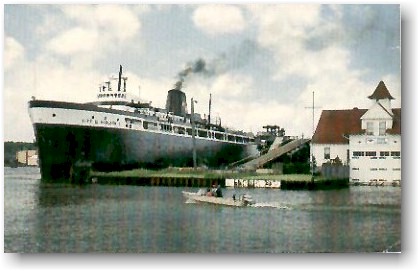 Postcard, undated.
---
This view looks to the east. The Green Bay Route's Kewaunee Ferry Yard is located on a peninsula of land behind the ship. The channel to the open waters of Lake Michigan extends to the right in the photo.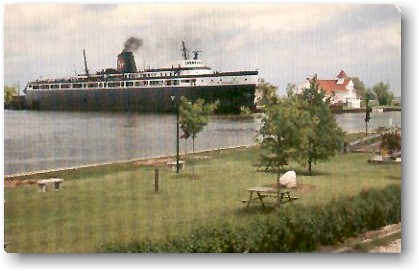 Postcard, undated.