A postcard view of Green Bay Food Company, located adjacent to the Green Bay & Western's Norwood Yard.
---
Green Bay Foods
Spur Tracks:

There were three tracks that served Green Bay Foods (now Deans Foods). All three ran off of Norwood Yard's New Wye and were numbered 1, 2 and 3, from west to east.
Track 1 held two cars at the open dock for brine salt for the pickle tanks and on occasion a Richter Vinegar wooden tank car containing vinegar.
Track 2 was used for loading insulated boxcars (see GBW 21014 for a typical car) and also to unload tanks of sucrose, sugar water and in later years covered hoppers of sugar into a below ground pit ground pit.
Track 3 was only used for loading outbound product in insulated boxcars. All three tracks were being used when I left the GBW in 1988.

The Green Bay Route's Norwood Yard is tightly boxed in by industrial and residential areas on all sides of the yard and shop tracks. One of the neighbors is Green Bay Food Company. It is located due west of the Kewaunee Wye, which connected the KGB&W to the GB&W main line.

The postcard view below is undated; however the yellow boxcars spotted on the track along the east side of the plant dates this postcard to at least 1959 and in later years the plant was expanded. I estimate this view is from about 1965.

The west leg of the Kewaunee Wye is the track which curves around the left side of the image and disappears into the foreground. The low tanks behind the plant are brine tanks used to pickle vegetables. The yard tracks of Norwood are located along the top edge of the postcard view.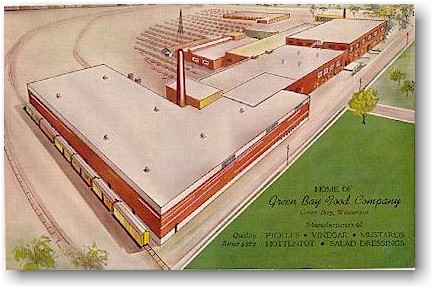 Postcard, undated.