The first train on the W-GB arrives at Waupaca.
---
The Waupaca-Green Bay Railroad was formed by local businessmen to promote the local potato growing and granite quarry businesses, and to provide competition to the Wisconsin Central which had been the only railroad in town and had a stranglehold on rates.
This message on the back of this postcard says that this is the first W-GB train, which according to historical records arrived at the morning of January 15, 1908. It also says that the railroad ran to Scandinavia and that was about 13 miles away and the train made a connection to Green Bay. The photo was taken by Emmons Photographers of Waupaca. The Waupaca station is in the background. This picture postcard is owned by my father-in-law, Dave Baker.
Engine 16 led the train into Waupaca. This photo contradicts Stan Mailer's "Green Bay And Western" book, one of the best sources of information on the Green Bay Route. The book reports that no. 16 was sold to the "A&G Ry." on March 9, 1907. Perhaps the information was actually the W-GB Ry? This photo seems to be proof that no. 16 saw service in Waupaca.
Related Material: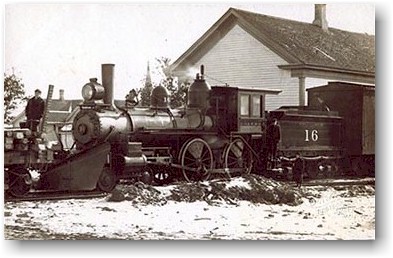 Notice: This image is owned by Dave Baker. From a 1908 postcard.