Postcard view shows the city of Sturgeon Bay and the Ahnapee & Western's crossing of the Sturgeon Bay Ship Canal.
---
This color postcard is titled "Where Green Bay and Sturgeon Bay Meet, Sturgeon Bay, Wis." It was made by E.C. Kropp and postmarked in 1932, The photo was taken at least a few years earlier, since a second highway bridge over the canal was completed in 1930 but doesn't appear in this view.
This view looks northeast towards the waters of Green Bay. At the time of this photo the only crossing of the canal was a joint road / railroad bridge with a swing span. The bridge was originally built as a wagon bridge in the 1880's but was rebuilt in 1894 with the roadway and the rails sharing a common right-of-way over the swing span. The bridge was a favorite target of the busy ship traffic passing through; it was rammed countless times during its 80 year existence.
The end of the bridge came in 1968, when the Federal government required all rail and highway bridges be thoroughly inspected following the disastrous Silver Bridge collapse. The cost of the repairs needed to the bridge was as great as the cost of a new bridge, and the cost could not be justified in light of Sturgeon Bay's meager rail traffic by this time. On August 8, 1968 the AHW was abandoned between Sturgeon Bay and Algoma.
Related Material: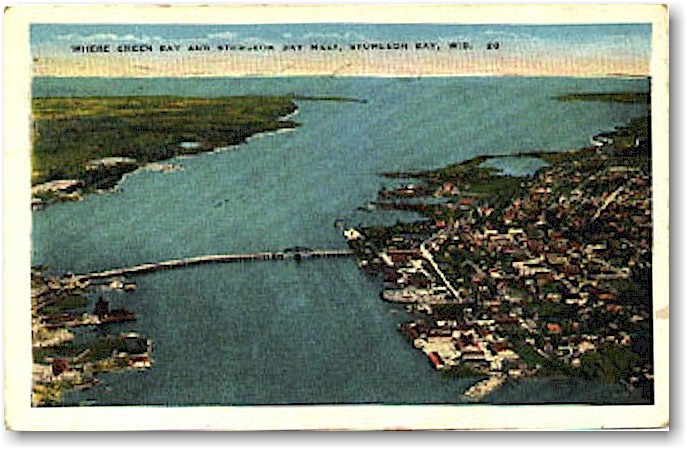 Postcard, undated.