An Alco RS-2, in a fresh gray-and-red paint job, sits in the sun on a beautiful fall day.
---
This photo displays the paint scheme worn by Green Bay Route diesels during the 1950s and 1960s. It was designed by the Alco Locomotive Company. This photo was taken September 1966.
The GB&W RS-2 (#301-304) and RS-3 (#305-308) locomotives looked very similar: the most obvious spotting feature was that the RS-2 had no battery boxes above the running board behind the cab, whereas the RS-3 did.
The freshly-painted RS-2 locomotive has a newly applied salvaged "belly pack" -- the fuel tank, air reservoirs and batteries from the Green Bay Route's FA-1 fleet which were retired during 1960-1965. All of the RS-2s received "belly packs."
If you look closely, you can see a fuel hose leading up to the side of the cab. I hope it has an automatic shut off, since no one appears to be around!
Thanks goes out to Charles Tomashek and Phil Buchwald for pointing out the details in this photo!
Other GBW #304 images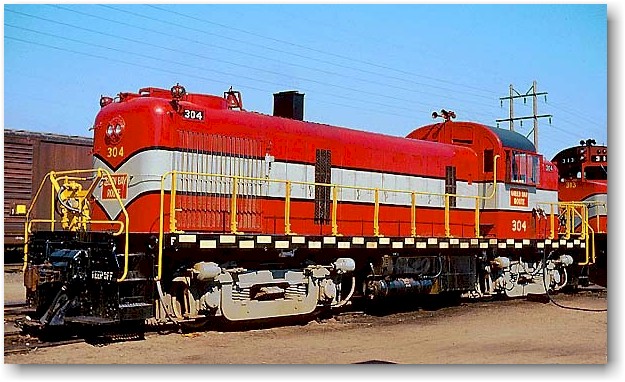 Joe Stauber photo.