RS-2 #304 shoots a plume of Alco 'turbo lag' smoke into the Plover sky.
---
Bill Christopher caught this Alco working in Plover in the Spring of 1976. This is only a few months before #304 was retired and scrapped.
Classification Lights:

Bob Welke had this to say about the classification lights on the GBW RS-2s and RS-3s:
"In the 'divers helmet' markers as used on steam and the RS-2/3's the lenses are white and inside there is a set of red and green lenses that are on a pivot. One uses the small lever on the side of the marker to move the correct color lens behind the white lens to display the appropriate color. White is for extra trains, green for second section following, red for rear end helper service.

"On the GBW I have seen the white extra lights lit, but about the only time I've ever seen the others used was around Christmas time as 'decorations'.

"Now here's a question for you timetable and train order modelers: What classification light color do you display on the engine of an extra with a second section following? White, green or both white and green?" (get the answer here)

Plover, April 1976


Plover Plume
Large plumes of black smoke were a hallmark of Alco's turbocharged '244' and '251' engines. The smoke was a by-product of the phenomenon of turbo lag: When the engine was fed more fuel to accelerate, the fuel-air mixture became overly rich until the turbine compressing the air got up to a corresponding speed. The rich fuel-air mixture caused the heavy black smoke. Later engines had more sophisticated controls to eliminate turbo lag.
The GB&W RS-2s were operated with the long hood as the "forward" end of the engine for their entire duration on the railroad. This engine is displaying white classification lights at the end of the long hood, indicating an extra train.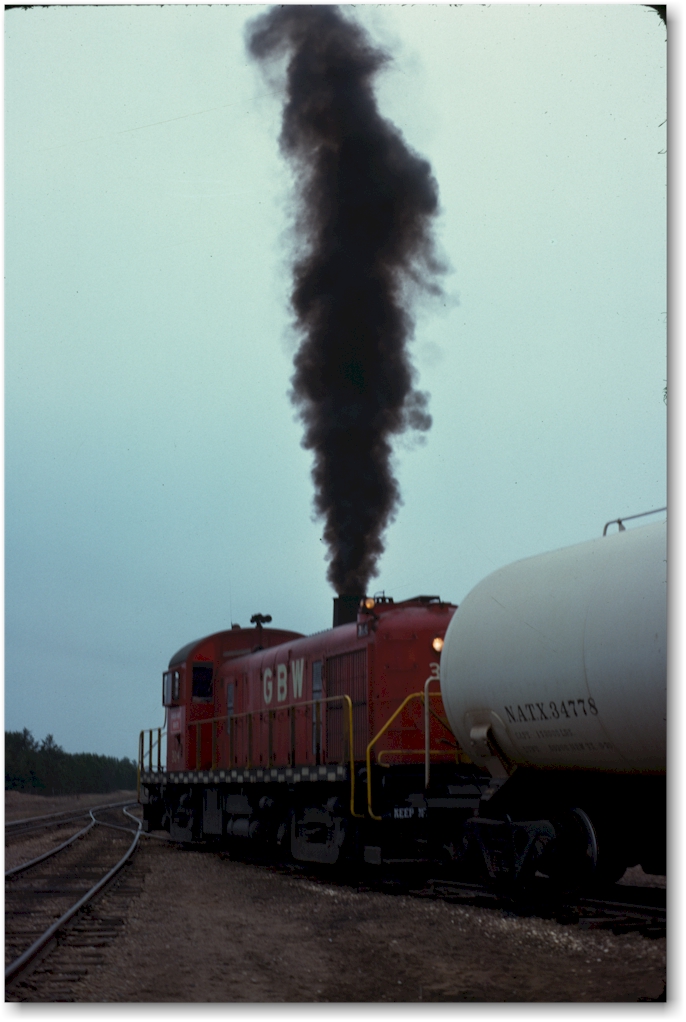 Bill Christopher photo, April, 1976.
This photo may not be reproduced without permission.