Road caboose #112 in Chippewa Falls.
---
Click on any of these photos for an enlargement: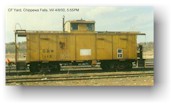 Side view.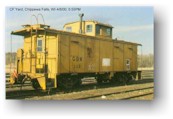 Three-quarter view.

Details of the opposite end.
Modeling the #112:
This caboose was produced in brass by two manufacturers: Hallmark and Overland Models.
Here are photos of Green Bay & Western's caboose #112 at Wisconsin Central's CF Yard in Chippewa Falls. They were taken April 8, 2000 by Bob Gile.
The caboose was used by the Wisconsin Central local out of Chippewa Falls as a riding platform for the conductor when making a shove move back to CF Yard after switching out Warehousing of Wisconsin east of town.
This caboose started out as Kansas, Oklahoma & Gulf #1549, and became Missouri Pacific #13241 after the KO&G merged into MoPac. It was renumbered to #11241 sometime prior to 1978, when MoPac retired it. It joined the Green Bay & Western fleet in 1980.
KO&G #1549 was built by International Railway Car (later International Car Company) in 1951. It was part of number series 1539-1553. These were the last cabooses built by the KO&G. They were renumbered into the MoPac (T&P) 13231-13245 series. The cabooses carried KO&G and then T&P sublettering when first relettered from the KO&G. This particular car was rebuilt in 1966, and again in 1974 at Sedalia. It was retired in November 1978. The first rebuilding was just an upgrade as the MoPac shopped the cars after the merger. The 1974 rebuilding was more extensive -- probably when the windows were blanked over and a cushion underframe was added. As the MoPac moved cabooses from road service to local and then transfer service, it changed the first two digits of the number from 13, to 12 and finally 11. Not all cabooses received all three numbers, but it seemed this one did. It was numbered 13241, then 12241, and finally 11241.
A special thanks to Bob Gile for the photos and Darin Umlauft for the initial research on this caboose. Many of the details on the history of this caboose come from Jerry Michels, author of Cabooses of the Missouri Pacific Lines.
Click on any of the small photos on the left to see a full-sized image.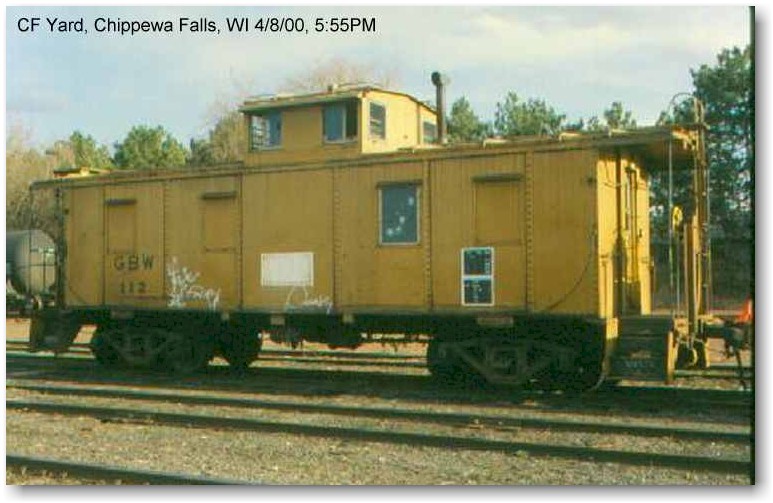 Notice: These images are owned by Bob Gile and may not be reproduced without permission.