This McCloud Railway double door boxcar still carries Ahnapee & Western markings.
---
There were 100 of these cars on the Ahnapee & Western roster, #4000-4099. By 1993 they were on the McCloud Railway Company roster and there were only 69 left in service. They were numbered #11100-11169. I don't know which of the car numbers in that range was not in use.
Herald King produced decals for these Ahnapee & Western cars, set no. B-1180. Check out the decal list for past and present sources for other Green Bay Route decals.
It's not very surprising that these cars were transferred from Ahnapee & Western to McCloud Railway ownership. The McCloud River Railroad (the MR's previous name) acquired the AHW in 1970. The McCloud was purchased by Itel Corporation in April, 1977. Itel purchased the Green Bay & Western in December 1977, making the AHW, MR, and GB&W all under one ownership. These cars were built in 1978, and left the AHW roster around 1983 or 84.
Much thanks goes out to Darrell Sawyer for giving permission to include this photo. Check out his NorthWest RailPics Freight Car Archives for his collection of freight car images from western North America. You can find specifications on this car on his web site at http://www.trainweb.org/nwrp/fmc/mr11151data.htm.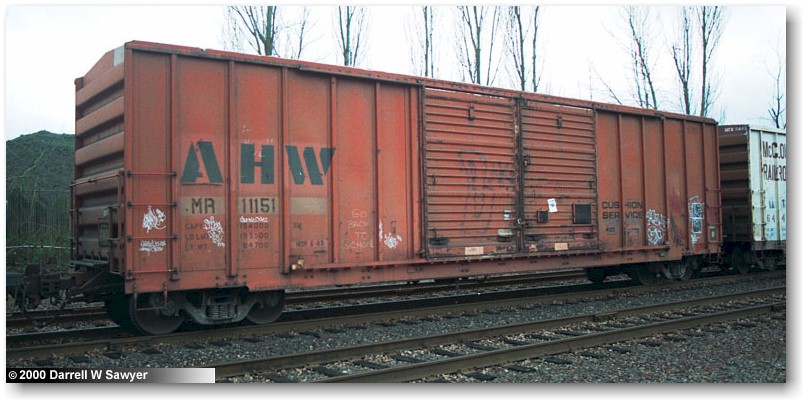 Darrell Sawyer photo, January 1, 2000.
This photo may not be reproduced without permission.