RS-2 GBW #304 rests in the Wisconsin Rapids sunshine on October 18, 1975.
---
The photo shows the loco during its last days on the Green Bay Route. By this time the fleet of four RS-2's were over twenty-five years old, and a narrow tread width had relegated the units to yard service --only seeing the mainline for their monthly trip to Norwood Shops in Green Bay for service. The bright white vertical stripes on the side of the long hood are new paper filters over the air intakes.
Although the GB&W's RS-3 fleet were upgraded with new engines and chopped noses in the 1970's, for the RS-2 it was a different story. The internal configuration of the locomotive made replacing Alco's temperamental 244-series engine with a 251- impossible. By January 1978 all the RS-2's had been either sold or scrapped. GBW #304 was sold to Michigan Northern in 1976, where it worked as #1501.
A thanks goes out to Bob Schoneman for sharing this photo.
Other GBW #304 images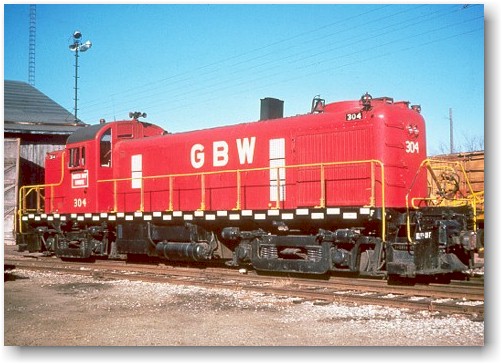 Photographer unknown
Collection of Bob Schoneman / Scott Janz reserve