These unique cars are used to haul granite near Stevens Point.
---
Side Dump Cars:
Click on any photo for an enlarged image.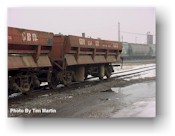 GBW 134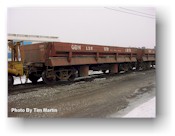 GBW 135

Tim Martin captured GB&W side dump cars #134 and #135 on February 9, 2002.

The Green Bay & Western purchased four side dump cars from Oliver Mining in northern Minnesota. They were put into service on the GB&W on June 12, 1980.

There is some debate about the origin of these cars.
John La Rue, Jr. says:

These cars appear to be Differential Steel Car Company (Difco) 30 cubic yard cars from probably the late 1930s. The four levers reaching up through the aprons are the main identifying feature. Magor cars have only two wide levers at the ends and the middle ones are absurdly thin. And Western cars were not this design.

But John Golden says:

Magor. Seaboard had cars exactly like it.
The cars received a quick paint patch with GB&W numbers 132-135, numbered just above ancient side dump cars X130 and X131 ( the former GBW X5 and X6, built in 1929). All except GBW #133 had the old Oliver Mining herald patched over (#133 also received "MW" with its GB&W numbering). They were later painted the standard GB&W yellow with "X" added to their car numbers, before finally getting the red scheme of the late Itel era, as shown in these photos.
In the Canadian National era, several of these cars seem to have found a home in Stevens Point and are used at the granite quarry just east of Stevens Point to carry large loads, sometimes huge chunks of granite.