President H. Weldon McGee was among only a few railroad chief executives who could operate a locomotive. He passed his tests in 1976, a few years before he retired.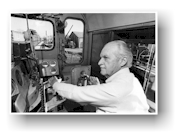 Here is McGee at the controls of an RS-27. It is from the Green Bay Press-Gazette. Notice the tri-level cars ahead on the track to the left, loaded with Ford Mustangs.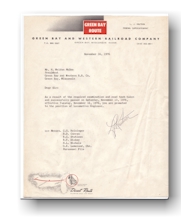 After he passed his tests, he received a letter from General Superintendent Knutson informing him that he has been promoted to Locomotive Engineer!
From the collection of H. Weldon McGee.
Weldon McGee on being an engineer:
From a 1992 interview:
How does it feel to have a locomotive running around with your name on the side?
"Well I like it very much. That was my favorite locomotive, and that's the locomotive that I completed my engineer's examination on, so they named it for me."
Do you feel it's important for railroad upper management to have the skills, or at least have a feel of what it's like to an engineer, operating trains over the railroad?
"Well, I think he should know something about some of the operating phases. He ought to know a little bit about all of it. He certainly ought to go into considerable detail on a lot of the operations. I did it just because that's an interest I had, that's all. Kind of a kid's feeling."