RS-20 #305 works a cut of covered hoppers at Taylor in 1994.
---
This photo was taken a few months after the GB&W was merged into Wisconsin Central's Fox Valley & Western subsidiary. GB&W leased #305 to Badger Mining about the time their sand spur opened (summer 1992?) to move their train from the sand mine northwest of Taylor down to the yard in town. In time, #305 wound up with the Gopher State Railway Museum, where it waits for a location where it can be displayed to the public.
The all-weather window was painted white about the time the WC acquired the GB&W.
A thanks goes out to Bob Schoneman for sharing this photo.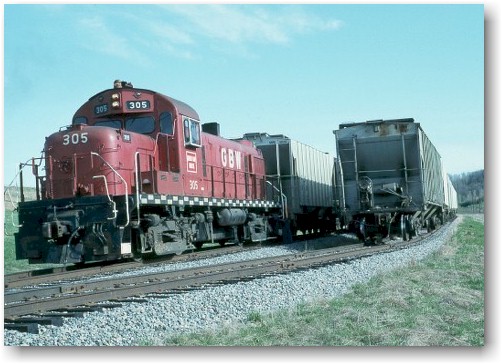 Eric Hendrickson photo, May 7, 1994.
From the collection of Bob Schoneman and may not be reproduced without permission.